2021 Vermentino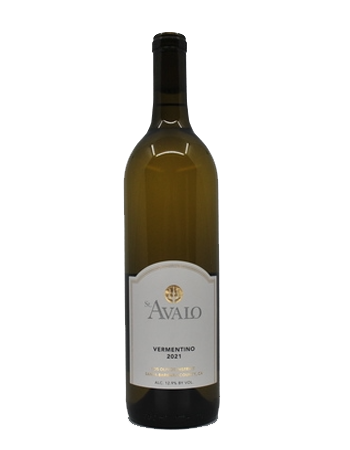 The Vermentino grape produces wines that are bright, clean, and crisp, with distinctive citrus character, refreshing acidity, and surprising richness. A lively and crisp white wine with tropical aromas of sweetened honeydew melon, white peach, and citrus complemented by a bright acidity and subtle minerality on the finish.
"Crisp apple, lemon blossom and lime peel aromas make for a zesty nose on this bottling of a promising grape for the region. There's pear-like ripeness to the palate, which shows a light textural edge."
Matt Kettmann (WineEnthusiast)
==========

Winner of best in class by Peninsula Underground 2023.
"Vermentino is a dry white wine grown mainly in Sardinia and Tuscany that has medium plus acid, medium minus body, and displays green apple, citrus, and floral notes. This top expression from St. Avalo transports their drinkers to Italy with a California twist. The nose is floral, with white blossom, then leads to green apple, pear, sweet grapefruit, lemon, and even a hint of nectarine building toward tropical notes. The wine is bright and fresh. There is great salinity and mouthfeel and shows almond on the long finish. Floral and zesty. Delicious and refreshing. A pleasure to drink."
Peninsula Underground - Score 90

Double Gold Medal Winner in International SommCon 2023 Concours d'Vin
Wine Specs
Appellation
Los Olivos District
Bottling Date
May 10, 2022
Wine Profile
Awards
Winner of best Pinot Grigio by Peninsula Underground 2023 - Score of 90
Product Reviews
Ingreed
(Aug 8, 2022 at 10:40 AM)
Excellent, light-bodied white wine with somewhat oily character, salinity and phenolic bitterness. Citrus, green apple, minerals, pear, peach. Pale lemon colour. Fun summer wine for the porch
Natalia
(Jul 13, 2023 at 1:37 PM)
One of the best white wines I've ever tried! So fresh and light. Perfect for the summer or after hard work day with sushi, for example. Definitely worth to try =)