March 6, 2023 | Newsletter | Oliver Ramleth
Newsletter March 6, 2023

As many of you know, last Spring we bottled the first of our estate wines from the 2021 harvest. After letting the wines cure from bottle shock, we did our best to share our wines with all of our Friends+Family around the world & were very pleased with all the warm feedback we had! Being the curious ones we are, we sought out an expert opinion last September to taste our wines & give us some professional feedback.
If you've followed St. Avalo for some time, you'll likely have already tried our 2021 Vermentino. A somewhat lesser-known Italian grape that is indigenous to Sardinia, we surprisingly have a similar climate & terroir here in the Santa Ynez Valley to the Italian island. Coming in as our top-rated wine of 2021 was our Vermentino with a score of 89! Here is what WineEnthusiast had to say:
"Crisp apple, lemon blossom and lime peel aromas make for a zesty nose on this bottling of a promising grape for the region. There's pear-like ripeness to the palate, which shows a light textural edge." - Matt Kettmann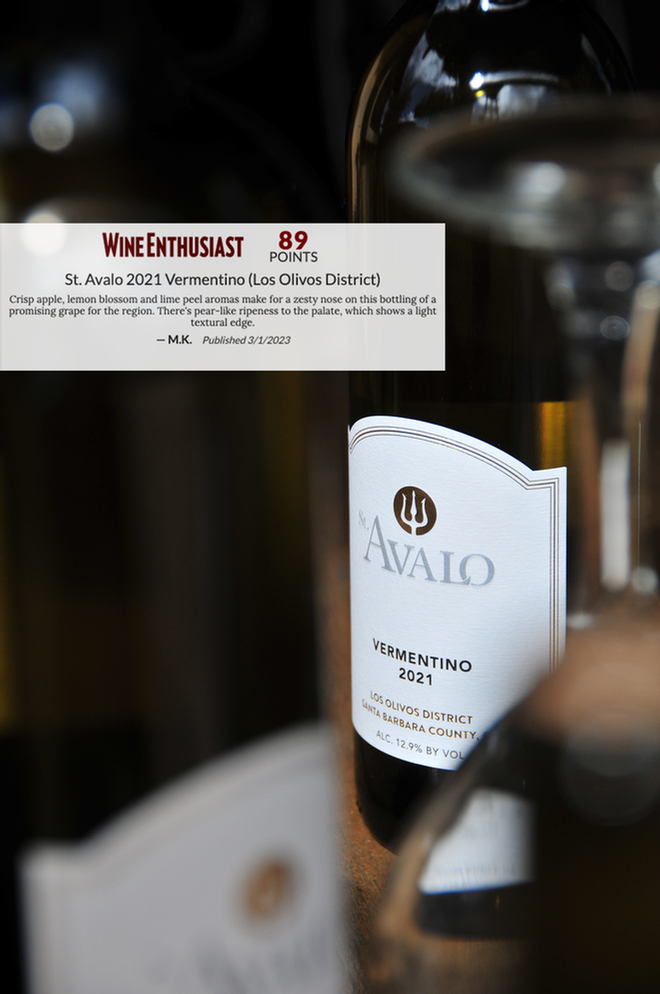 This feedback is warmly welcomed & we couldn't ask for much more from our inaugural harvest & bottling.
To share in our excitement over this news, we're extending a promotion to all of the St. Avalo family to order a few bottles for your home cellar. Use promo code "WE20" for 20% OFF your next order & FREE shipping when you order 3 or more bottles of St. Avalo on our online store!
Until next time,
-St. Avalo
Comments