July 2, 2023 | Oliver Ramleth
St. Avalo Wines win Peninsula Underground competition: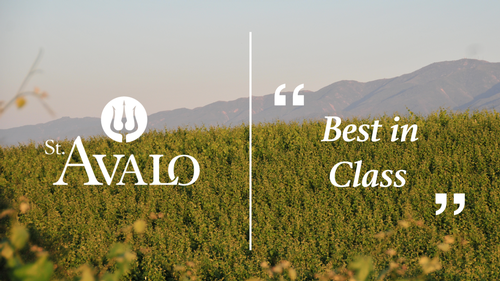 Being a boutique wine producer, you'll not find St. Avalo wines at supermarkets or restaurant chains. We take pride in personally visiting restaurants + bottle shops to develop relationships & ensure we're a mutually sound fit for our partners. When you're as passionate as we are about delivering on quality, it's critical to find those who share our values.
Our core focus when approaching our market is centered around partnering with those who share our appreciation for quality like our friends at Cuyama Buckhorn & many others. And the same goes for market feedback...
We recently had a chance to meet the Peninsula Underground folks & appreciated what they were doing with the boutique wine producer community in California. We entered the first 3 of our estate wines to be bottled in their 2023 California Underground competition—and were surprised to have won "Best in Class" on our 2021 Pinot Grigio & 2021 Vermentino.
"This wine is your summer go-to. It's bright, fresh, and just downright delicious. Lemon, pear, and honeysuckle, with a hint of apricot, followed by great salinity and mouth feel on the finish. Medium plus acid gives the wine structure and we detect tertiary notes of dried apple and nuttiness. A treat by the pool." - Peninsula Underground
Having already had great feedback on the Pinot Grigio, we were pleased to read this review & happy to win "Best in Class." For our Vermentino also being well-reviewed to date, we were happy to hear their thoughts & also win "Best in Class."
"Vermentino is a dry white wine grown mainly in Sardinia and Tuscany that has medium plus acid, medium minus body, and displays green apple, citrus, and floral notes. This top expression from St. Avalo transports their drinkers to Italy with a California twist. The nose is floral, with white blossom, then leads to green apple, pear, sweet grapefruit, lemon, and even a hint of nectarine building toward tropical notes. The wine is bright and fresh. There was is great salinity and mouthfeel and shows almond on the long finish. Floral and zesty. Delicious and Refreshing. A pleasure to drink." - Peninsula Underground
Outside of placing our wines in restaurants & bottle shops, we offer our wines to consumers directly from our website and rely on industry experts, publications & peer reviews to educate consumers on our wines. Make sure to follow St. Avalo on social media & subscribe to our newsletter for the latest announcements & releases.
As far as passion projects go, making the multi-year investment in cultivating an organic vineyard takes plenty of patience. Like so many other things in life, making quality wine can easily go awry; but receiving the market feedback we have makes it all worth it.
Comments